Founded in 2013, the AMA Detroit Marketing Research SIG (Shared Interest Group) was developed to support and enrich marketing research professionals' development and networking in Metro Detroit.
Meetings are informal but organized. Ideas for discussions and learning/training come from and are provided by the Marketing Research SIG (MR SIG).
Who should attend?
AMA members, non-members or students interested in marketing research
Marketing researchers and those interested in marketing research in Metro Detroit
What are MR SIG events like?
MR SIG events are brown bag lunch activities typically held at Lawrence Technological University. These events are more informal than other chapter offerings; consisting of a discussion leader leading a lecture or round table discussion.
For more information, contact Dave Pagnucco at [email protected].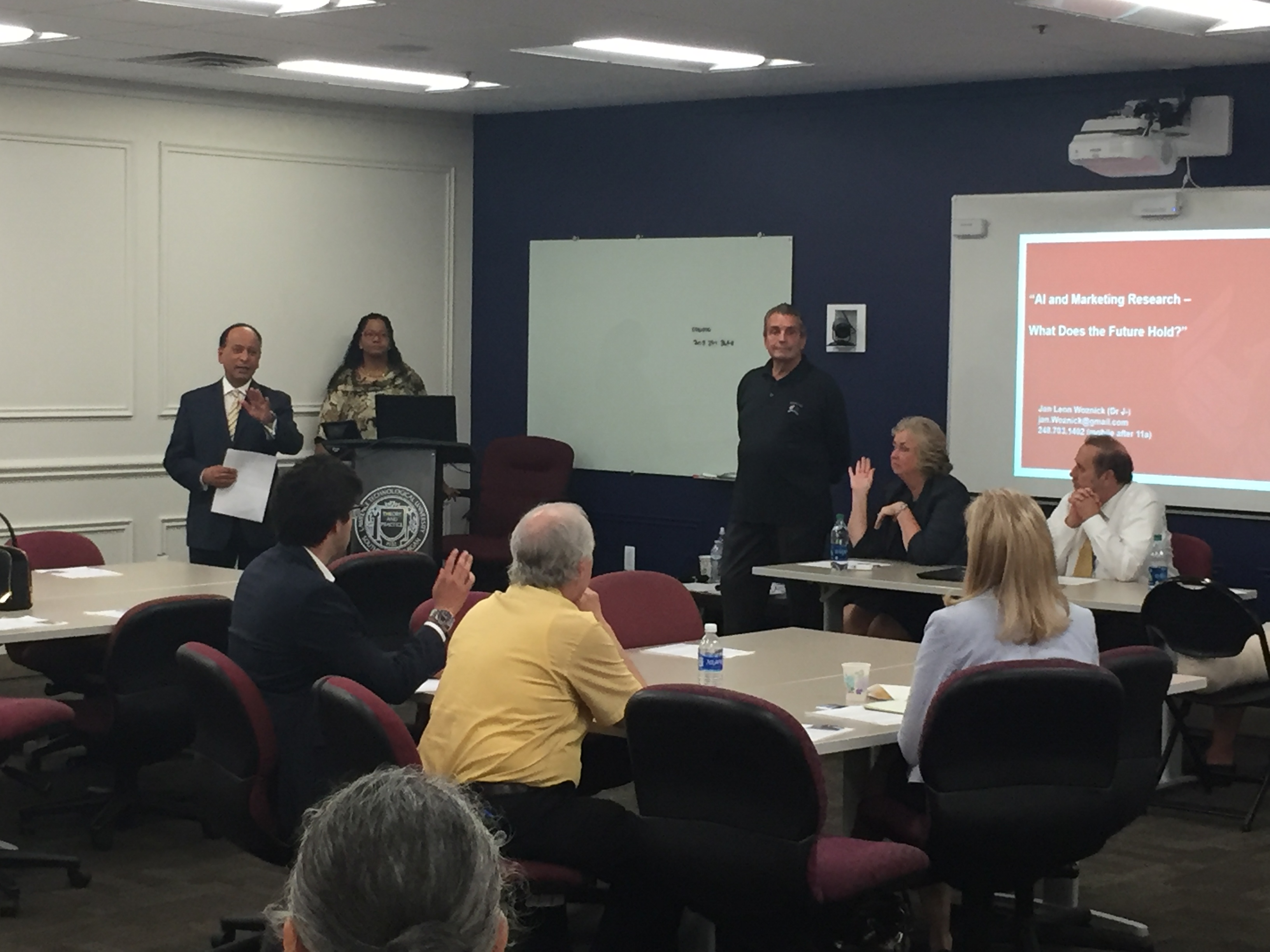 Past Events
2022
FUTURE OF MARKET RESEARCH - FEEDBACK ON TOMORROW WITH THE CONSUMERS OF TODAY (hybrid: in-person & webinar): JASON MANTEL, MANAGING DIRECTOR, AUTOMOTIVE & MOBILITY, ESCALENT
2021
Who Likes Global Brands? (hybrid: in-person & webinar): Irem Yoruk, PhD, Candidate & Lecturer, Wayne State University
2020
Conducting Business & Research in a Post-COVID World: Michael Francesco Aioto, PhD, Vice President-Global, Gongos; Steve Crewdson, Sr. Research Lead, Gongos

Experience Management (XM) Research in an Era of Uncertainty (Webinar): Lindsay Ferguson, Research Services Account Manager, Qualtrics; Liz Dean, Survey Methodologist and XM Scientist, Qualtrics
2019
The Essential Role of Trust in the Consumer Experience: Michelle Ruiz, Managing Director – Consumer Insights, J. D. Power
Making Research Matter: Integrating Insights Throughout the Organization: Shelly Bouren, Research Manager, Detroit Pistons
2018
Teen Smartphone Addiction National Survey (Webinar): Michael Mercier, President, Screen Education; Brian Peterson, Digital Marketing Director, EMI Research Solutions; Glenn Stark, Owner, Stark Consulting

The Key Qualifications Clients are Looking for in a Candidate in the Research Industry, and an Exploration of Industry Trends: Matt O'Mara, President, Cranbrook Search Consultants LLC
2017
Is Artificial Intelligence Redefining Marketing (and Market Research)?: Jan Leon Woznick, PhD

The Long-Term Outlook for the U.S. Automotive Market: Haig Stoddard (Sr. Industry Analyst, WardsAuto)

Applications of the KANO Model: Bill Rosen (Technical Director, General Motors Global Market Research Group)
2016
Marrying Market Research and Competitive Intelligence: Anne Herron (VP, AIM)

What Makes an Effective TV Ad?: Kevin Elder (Sr. Director, Neilson)

Crisis, Choice & Change: Conducting Marketing Research in a Chaotic Globalized World: Michael Francesco Alioto, PhD (VP of Global Methods, Gongos Research)