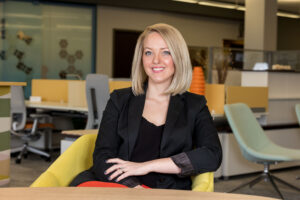 At AMA Detroit, one of our goals is to support students interested in pursuing marketing as a profession. To do this, we have a Collegiate Relations Committee dedicated to fostering growth for students in the Metro Detroit area and our student members. We have recently appointed a new VP of Collegiate Relations to the AMA Detroit Board! Let's take a moment to get to know a bit more about Katie McGerty.
1. How did you get into marketing?
I have always been interested in marketing roles since high school. After college I started my career in more of an administrative role, which included a marketing aspect. About 8 years ago, I was able to secure a 100 percent marketing role and loved it ever since.
2. What do you enjoy most about AMA Detroit?
I love meeting new people from many different industries, yet still having similar roles and pain points. The programming is also really informative and a great way to learn a new perspective.
3. What do you look forward to as the VP of Collegiate Relations for AMA Detroit?
I look forward to connecting with individuals getting ready to start their careers. There is so much we can learn by taking a reverse- mentorship approach. Also, looking forward to providing resources and guidance that I didn't have myself.
4. Any book recommendations for personal or professional growth?
One book I really enjoyed recently was 'Everybody Lies: Big Data, New Data, and What the Internet Can Tell Us About Who We Really Are' by Seth Stephens-Davidowitz. Honestly, I don't read too much, but listen to podcasts every day. Work Life with Adam Grant is a great podcast for workplace inspiration.
5. What's one of your favorite quotes?
'I alone cannot change the world, but I can cast a stone across the waters to create many ripples.'