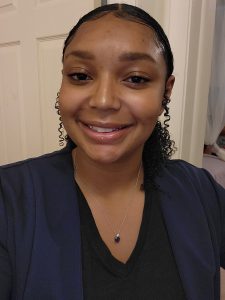 AMA Detroit welcomes its first intern! Christin Strong, a student at MSU has joined AMA Detroit as a People and Communications Intern. Let's take a moment to get to know a bit more about Christin.
What is your major and why did you choose it?
My major is communications. What drew me to communications was its versatility. There is a wide range of career paths available with a major in communications. Majoring in communications cultivates skills needed in all lines of work and careers such as expressing ideas and collaborating with others. Plus, my coursework in communications has made me a better communicator overall.
What is one company you think is doing a great job in marketing?
Many companies have done a great job marketing but one company that stands out is Apple. They have made their products some of the most popular by promoting their sleek designs and superior hardware through innovative storytelling  and unique marketing campaigns.
What do you like so far about interning with AMA Detroit?
I've enjoyed conducting informational interviews with members of the 2022-2023 Executive Board so far. The interviews have helped allowed me to hear different perspectives from individuals working in a variety of marketing positions. During the interviews, I've had the opportunity to hear about a professional's firsthand experience in their field. The insights gleaned have provided me with in-depth knowledge about the field of marketing. Also, I'm enjoying using marketing and communication tools I'm familiar with such as Canva and learning about new tools I'm not familiar with such as WordPress.