It's a new year, and we have a new President joining the AMA Board! Let's take a moment to get to know a bit more about Christina Strong-Regan.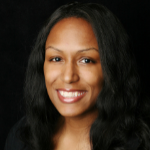 How did you get into marketing?
I started in digital media/marketing in my first professional role for a local TV station managing their lifestyle brands. I was looking for a role post graduate school with my degree in journalism. After starting out in digital media/marketing, I transitioned into communications. After serving as a Communications Manager, I moved into my current role in marketing. It was a natural progression for me moving between each role. The skills and experience I acquired carried over to each position. I've always loved writing, so I wanted to find a career field in which I could do that. Luckily for me, communications, marketing, digital media and public relations all require a lot of writing.
What do you enjoy most about AMA Detroit?
I enjoy the events. I always love hearing from other professionals in the field. I also enjoy meeting and networking with other marketers around the Metro Detroit area.
What advice do you have for those just starting their marketing careers?
Learn as much as you can about all facets of marketing. You may end up specializing in one area e.g., content marketing, email marketing, etc., but having basic knowledge on various aspects of marketing is an asset.
Any book recommendations for personal or professional growth?
There are so many books! I particularly enjoyed "In the Company of Women". It provides advice from more than 100 women entrepreneurs, artists and more.
Care to share a fun fact about you?
I met Lucy Lawless (star of the 90s' hit show Xena) at a comic con convention once. I love that show!
Thanks for sharing, Christina. We're so excited to have you on board for the 2021-2022 year!