July marks the beginning of the 2020-21 AMA Detroit chapter year. Get to know our new President, Amy White-Jones in our new "5 Questions" series.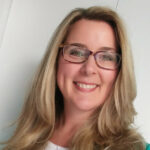 Current role: President, AMA Detroit
Area(s) of expertise: Strategic Marketing, Engagement, Brand
Favorite thing(s) about marketing: Consulting with business owners and developing a full integrated plan based on goals.
How did you get into marketing? By accident, I was given a task to create additional sales for a brand and basically created a marketing plan unknowingly which got me promoted into the marketing department.
What attracted you to the AMA? Being able to network with local marketers and content for additional learning and changes in marketing.
What do you like most about being a part of AMA Detroit? Relationships with likeminded people and the strategy of how to engage with those in the Greater Detroit area.
What advice do you have for those just starting their marketing careers? Try to get a wide variety of experience in different areas of marketing if at all possible. It will help you to figure out what you love and are also good at. 😊
When you aren't at work or volunteering what would you say is your favorite way to rewind and relax? Being with my family & friends and reading books that help me in my growth as a whole person.