Thanks to all who stopped by our booth and helped to make Digital Summit Detroit a success!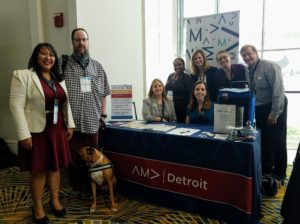 Here are some of our favorite takeaways:
The #1 reason for brand inconsistency: getting caught in random tasks, losing sight of the bigger picture. – Danielle Cantin, President, AMA Detroit
If you want your readers to take action on your call-to-action (CTA) via email marketing, be specific about what you want them to do, and state it at least twice. – Leslie Cocco Alore, Head of Global Operations and Automation, Iron Mountain
65% of marketers aren't able to determine what content is and is not effective. – Juntae DeLane, Founder, Digital Branding Institute
Through video content, it is more important to be candid and authentic than perfect and polished. – Sherri Powers, Director of Marketing, TechSmith
The magic number for trusting an online review is closer to 4.2 than 5 out of 5. Ninety-three percent of consumers read your reviews. – Daniel Lemin, Head of Consulting, Convince & Convert
The best resource for the kind of content your customers need? Your staff who interact with your customers every day! – Quinn Tempest, Marketing Manager, Vertical Measures
What did you learn? Let us know in the comments below.
Bonus: Here's what Katie Kelly, social media manager at Michigan State University, gleaned from Danielle's presentation: